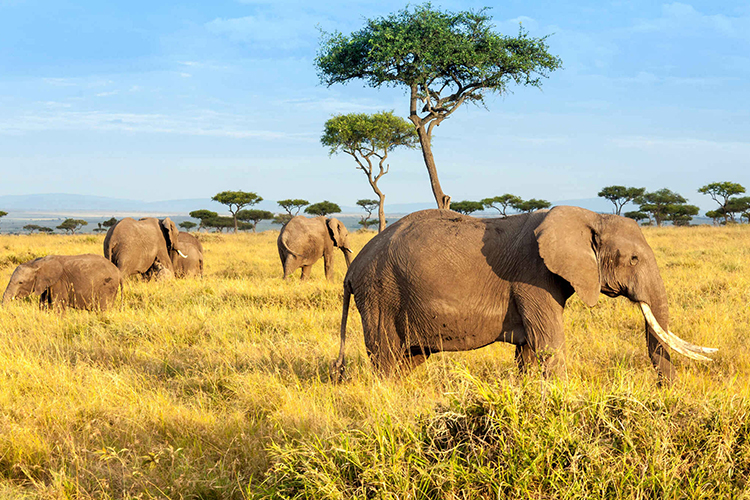 Are you planning an East African safari to Tanzania or Kenya where your time will be spent in nature, game viewing some of the best wildlife Africa has to offer, enjoying the radiant sunshine and building everlasting relationships with your fellow African travellers?
I am often asked to compare Kenya vs Tanzania safaris and tours, to see which would offer the best African experience. This is a great but difficult question as both Kenya and Tanzania are captivating African safari destinations with an abundance of wildlife, where you can have a Big Five Safari Experience.
Below you can find some destination comparisons, which will help you to choose the best Tanzania or Kenya safari option for you.
Tanzania
When it comes to the quantity of wildlife, a Tanzania safari wins. One reason for this is that it's the larger country when comparing a safari in Kenya vs Tanzania.
More of the Great Migration takes place in Tanzania than in Kenya meaning that you have a greater chance of seeing the great migration during more months of the year when comparing safari in Tanzania vs Kenya.
Tanzania has fewer visitors than Kenya meaning less crowded game parks and safaris which is especially great considering covid-19 protocals.
Accommodation on a Tanzania Safari is a bit more expensive than a Kenya Safari when comparing a Tanzania Safari vs Kenya Safari.
There are very few large hotels or resorts, so lodges and camps fill up very quickly over peak season.
Vehicles used for safari drives in game reserves are closed vehicles.
More iconic natural landmarks can be found in Tanzania, like Mount Kilimanjaro, the vast plains of the Serengeti Serengeti National park, Ngorongoro Crater and,The Great Rift Valley Escarpment.
A Tanzania Safari is a safe destination for safari.
National Parks are bigger and game drives will take longer to spot animals when comparing Tanzania vs Kenya safaris.
Visa and Yellow Fever certificate is required.
Kenya
A Kenya Safari is also bursting with African wildlife and hosts the great migration river crossings of the wildebeest.
Kenya is wealthier than Tanzania and has a more developed infrastructure and tourism infrastructure when comparing Kenya vs Tanzania.
You have a choice of more Hotels and Lodges in Kenya than in Tanzania.
Game parks are more accessible. Nairobi is the capital and the hub of all flights.
Attractions in Kenya are Amboseli, The Masai Mara with the Mara River, and Lake Nakuru.
Accommodation in Kenya is less expensive than in Tanzania and offers more budget-friendly safaris when comparing Kenya vs Tanzania.
Accommodation can vary from walk-in Meru tents to luxury African lodges.
Vehicles used for safari drives are closed vehicles.
National Parks are smaller and it is easier and faster to spot animals when comparing a Kenya Safari vs Tanzania Safari.
Kenya is a safe destination for your African safari.
More safari activities are offered in Kenya, which include walking safaris, boat cruises and, village tours.
Visa and Yellow Fever certificate is required.
Both countries are in East Africa and have coastlines along the warm Indian Ocean. This being said, it is always a good idea to end your safari with a couple of days relaxing and enjoying one of the Zanzibar beach resorts along its pristine coastline.