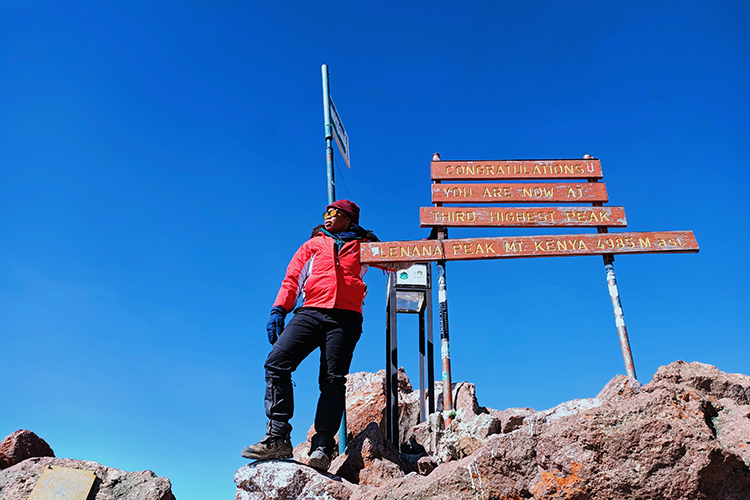 How to prepare to climb Mt Kenya
Mount Kenya is the less climbed cousin of Mount Kilimanjaro nearby in Tanzania, however many people prefer the wilderness, abundant wildlife and stunning mountain lakes that you find on Mount Kenya. Point Lenana at 4985m metres is a feasible trekking peak and also currently the worlds highest via ferrata summit route, which adds to the challenge and enjoyment. The panoramic views of the jagged volcanic peaks, wide valleys and surrounding savannah makes a trek on this mountain a thoroughly enjoyable African experience.
We have been guiding trips on Mount Kenya since 1996 and have full time mountain staff at the base. We adopt a proper approach to acclimatisation which means that the ascent is not rushed. We run advertised trips on all the main routes with scheduled dates but can also offer tailor-made private trips and can add-on safari's to experience a bit more of Kenya's diverse culture and unique wildlife in some of the world's great National Parks, Game Reserves and Conservancies.
What is the Best Season for a Mount Kenya Trek? The weather
Mount Kenya can be climbed all year round. But if you want the best weather then you should be planning for January to March or June to October. *Then you are avoiding the rainy season and you get the best weather and with that the best views", Evans agrees. Of course, the weather on the mountain can be hard to predict and all seasons are possible at any time on the day, but if you stick to the best seasons, you can get the best bang for your buck.
What Should I Pack While Hiking Mount Kenya?
Trekking in Mount Kenya requires decent gear. Especially the basics like an 80-90l backpack and quality trekking socks.
Technical Clothing
– Waterproof Jacket, breathable with hood
– Insulated Jacket, synthetic or down
– Soft Jacket, fleece or soft-shell
– 2 Long Sleeve Shirts, light-weight, moisture-wicking fabric
– Short Sleeve Shirt, light-weight, moisture-wicking fabric
– Waterproof Pants, breathable (side-zipper recommended)
– 2 Hiking Pants (convertible to shorts recommended)
– Fleece Pants – Shorts (optional)
– Long Underwear (moisture-wicking fabric recommended)
– 3 Underwear, briefs (moisture-wicking fabric recommended)
– 2 Sport Bra (women) Headwear
– Brimmed Hat, for sun protection
– Knit Hat, for warmth
– Balaclava, for face coverage (optional)
– Bandana (optional)
Handwear
– Gloves, warm (waterproof recommended)
– Glove Liners, thin, synthetic, worn under gloves for added warmth (optional)
Footwear
– Hiking Boots, warm, waterproof, broken-in, with spare laces
– Gym Shoes, to wear at camp (optional) – 3 Socks, thick, wool or synthetic
– 3 Sock Liners, tight, thin, synthetic, worn under socks to prevent blisters (optional)
– Gaiters, waterproof (optional)
Accessories
– Sunglasses or Goggles
– Backpack Cover, waterproof (optional)
– Poncho, during rainy season (optional)
– Water Bottle (Nalgene, 32 oz. recommended
– Water Bladder, Camelback type (recommended)
– Towel, lightweight, quick-dry (optional)
– Stuff Sacks or Plastic Bags, various sizes, to keep gear dry and separate Equipment
– Sleeping Bag, warm, four seasons
– Sleeping Bag Liner, for added warmth (optional)
– Trekking Poles (recommended)
– Head lamp, with extra batteries
– Duffel bag, (waterproof recommended) for porters to carry your equipment.
– Daypack, for you to carry your personal gear
Other
– Toiletries (Option)
– Prescriptions
– Sunscreen
– Lip Balm
– Insect Repellent, containing DEET
– First Aid Kit
– Hand Sanitizer
– Toilet Paper (To be provided)
– Wet Wipes (recommended)
– Snacks, light-weight, high calorie, high energy (optional)
– Pencil and Notebook, miniature, for trip log (optional)
– Camera, with extra batteries (optional)